Printing of woven and knitted fabrics
Printing machine REGGIANI REVOLUTION is available for printing knitted and woven fabrics.
It is an eight-colour machine, therefore, there can be up to 8 colours in one pattern.
We print with pigment, reactive and dispersion dyes in width of up to 190 cm.
An important criterion in the design of a new pattern is the size of repeats.
Possibilities of repeats:
640 mm (most commonly used)
914 mm
1018 mm
Customers have the option to specify a template to manufacture their own patterns - an exclusive pattern, it is used solely  for one client (the owner of the template).The second option is to select one from of nearly 200 designs owned by Intercolor. In this case the customer does not pay for the template, the pattern, however, is not used exclusively for the one client.
We print these types of knitwear and fabrics: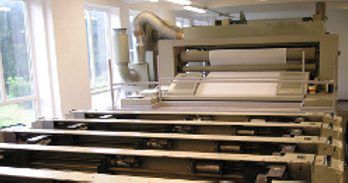 Bedding fabrics - linen, flannel
Pyjamas and underwear - canvas, flannel
Linen - linen and semi linen fabrics
Elastic goods
Tablecloths and placemats
Satin
Creping of bedding materials
Military fabrics and printing for uniforms
Materials for automotive industry
Printing straps, ribbons and elastics
Printing is performed on a film machine STORK MBK - 4-colour.
We print the following products:
straps
elastics
decorative ribbons
edgings
canvas belts made of textile fabrics (cotton, linen, polyester, polyamide, VS, etc.)
Technological printing options:
one-sided or two-sided
width from a few mm to up to 350 mm
in several lanes, according to the width of the material
printing with pigment dyes (including gold and silver), fluorescent, dispersion and reactive
winding on drums with a diameter of 18.3 cm
© 2022 INTERCOLOR a.s.