Coating
Coating refers to surface treatment of fabrics, knitted fabrics or non-woven textiles, in which one or both sides is provided with a layer of surface sizing composition. The purpose is to obtain a new design or mechanical properties.
Intercolor uses machinery from STORK CFT. Coating is performed through rotary sifts equipped with knife scrapers (technology similar to screen printing).
Maximum coating width 220 cm.
Coating thickness: in one layer a possibility of application in few grams to up to 100 g/m2. This amount can be increased by increasing the number of coats.
Applied chemicals must be water-based: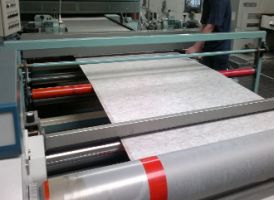 acrylic (vinyl acetate, acrylate styrene)
PUR
fireproof (flame retardants)
hydrophobic 
Application options:
paste
stable foam
unstable foam
Methods of application:
application / printing (single colour)
spot application
foam application
liquid
Fields of application: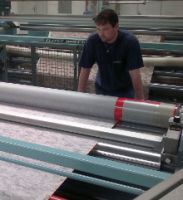 protective covers for mattresses
washable pillows and blankets
protective clothing, anti-skid treatment
furniture upholstery and car interiors
sportswear and fashion effects (glitters, leather imitation)
table linen (acrylic, polyurethane coatings with dirt resistant finish)
Fire retardant coatings
Black out coatings
Military sector (uniforms, clothes, backpacks, equipment)
Coatings sustaining water column
Steam penetrable coatings
© 2022 INTERCOLOR a.s.