Garment Dyeing
Technology of dyeing, washing and special modifications of finished products suitable for these product groups:
- T-shirts, pants, blouses, sweatshirts, rugs and bath mats, cuffs, etc.
This type dyeing can be used for products from fabrics and knits or special products can be used.
Suitable material compositions:
- products from cotton, wool, linen, viscose, hemp, bamboo, polyamide.
Polyester products and mixtures with synthetic fibres cannot be dyed.
Products need to be pre-treated for this technology. The customer will either supply pre-treated goods or we will perform pre-treatment ourselves.
The minimum quantity of goods from one colour – 5 kg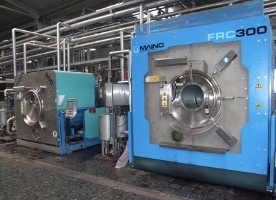 Technological capabilities - special effects:
dyeing according to customer requirements
surface finishing of textiles by enzyme washing (denim) - STONE WASH not possible
pre-washing of new clothes - pre-shrinking
softening of products according to specific customer's requirements
tie-dyeing
CHAMOIS (grainy look) special surface finishing
special seam effects
Advantages of materials treated in this way:
quick response to fashion colour trends
possibility of dyeing small items - from 5 kg
comfortable products production for consumers, especially in the area of pre-shrinking (customer no longer needs to calculate the shrinkage of product due to washing)
specific look and comfortable feel of products
individual approach for products as well as customers, providing information on the possibilities of treatment of required materials, professional consultation before processing the materials for dyeing etc.
© 2022 INTERCOLOR a.s.