Dyeing
Knitwear is dyed in rope form. Dyeing division is equipped with pressure dyeing apparatus of the AIR FLOW and OVER FLOW type.
Used dyes meet strict quality (stability), health and environmental criteria (According to standards ECO-TEX Standard 100) and other EU legislation.
Types of dyes used:
reactive (almost 100% of production with celluloid materials)
saturn (only at the express demand from the customer and only for light shades)
dispersive
acetose
vat
sulfur
In case of blended materials (cotton / polyester, cotton / PAD, ...) there is the possibility of dyeing with multicomponent (two units) combinations of the above dyes.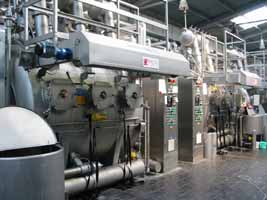 © 2021 INTERCOLOR a.s.